Long Life Prayer for Tsem Tulku Rinpoche
A Prayer For The Long Life of His Eminence Tsem Tulku Rinpoche

www.tsemtulku.com




Composed by Holiness Kyabjye Rinpoche Chogtrul Trijang Dorjechang.
Translated by David Molk, November 2011.
All Jinas' three secrets in the glorious youth of an autumn moon,
With shining garlands of white light of immortality,
Supreme Deity of long life, Arya Tare Ma,
Please protect us now with hundreds of blessings of all wished virtue and goodness!
Bodhicitta, oceanic, that of ten million Holders Of The Teachings,
Armor of patience difficult to fathom in its depth and breadth,
Supreme Spiritual Guide with a treasury of jewel qualities,
May you live long nurturing an ocean of trainees.
Blazing with the sun of the Jinas' Teachings,
Benevolent Lord dispelling the darkness for beings,
For the glorious blooming of trainees such as myself,
May your smiling face, marks and signs ever shine with light!
Protector Manjushri's Teachings, like finest silk of ancient India,
Light and soft, like those Teachings mutually supportive view and conduct,
And all rolled up, with provisional and definitive Teachings not contradictory,
Master Teacher, Great Spiritual Guide, may you live long!
We disciples, possessed by the demon of ignorance,
Have been disrespectful and, always seeing ordinary appearances,
We lose faith, misunderstand, and do not accomplish your instructions:
From our hearts we truly beg your forgiveness! May we delight you!
In brief, may we, the disciples and patrons,
Delight you, O Guru, our Supreme Guide,
May our minds be ripened by rain of holy Dharma nectar
And may we attain the non-obscured nature of Dharmakaya.
HH Trijang Tenzing Lobasang Yeshe Gyatso composed the Long Life Prayer for H.E.Tsem Rinpoche as requested by Mr. Beng behalf of Tsem Ladrang members and disciples on November 13, 2011.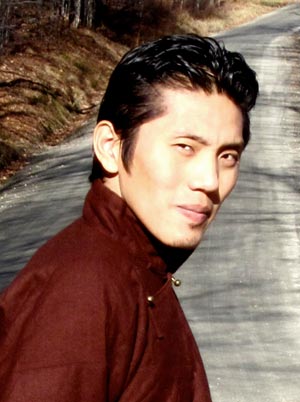 This prayer for the long life of Tsem Rinpoche was composed by His Holiness Kyabje Trijang Choktrul Rinpoche. He was born 15 October 1981, and is the current reincarnation of the late Kyabje Trijang Dorje Chang.
Kyabje Trijang Dorje Chang was a direct disciple of Kyabje Pabongka Rinpoche, and was also the junior tutor and spiritual guide of the 14th Dalai Lama. In addition to this, he was also the root guru of many Gelug lamas, one of which includes Tsem Rinpoche's root guru, H.H. Zong Rinpoche.
His reincarnation, Trijang Choktrul Rinpoche, was discovered in a Tibetan family in Northern India. On 23 April 1985, when Trijang Choktrul Rinpoche was just 4 years old, he was officially recognized by His Holiness the Dalai Lama. He completed his studies under his root guru Kyabje Lati Rinpoche and other incredible teachers of our time.
Trijang Choktrul Rinpoche is the founder and spiritual guide of Trijang Buddhist Institute in Vermont, United States.

http://www.tbiusa.org/home